About the Author
HONORABLE SURVIVOR grew out of Lynne Joiner's lifelong interest in China. A seasoned journalist with over twenty-five years' experience with some of the country's major news organizations, Joiner was the only  American correspondent in China in 1976 when Premier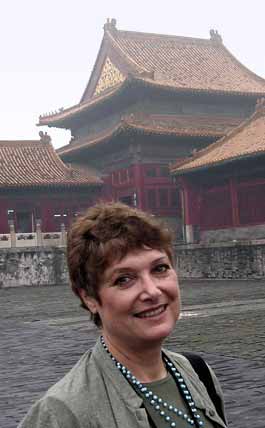 Zhou Enlai died, an historic event that marked the passing of the revolutionary generation. It was her interest in China and Chinese-American relations that put her in that unique position, and it was through her reports to all three major TV networks that most Americans were kept abreast of what that historic changing of the guard signaled for the West.
Soon thereafter, Joiner met former Foreign Service officer John Service and his wife at a conference on diplomatic recognition of the People's Republic of China. Their professional interest developed into a personal friendship. Joiner began to hear stories about Service's unprecedented talks with Chairman Mao during World War II and became curious about the circumstances surrounding his persecution during the McCarthy witch-hunt years. After being allowed to read Service's confidential oral history in 1978, she resolved to write this book.
Finally, in 1999, drawing on impressive credentials that have taken her around the world and made her an award-winning journalist, producer, and documentary filmmaker, Joiner began to use the Freedom of Information Act to gain access to previously unpublished government documents that supplement what she learned in extensive interviews with the principals of this story. It is a story that could only be told by someone who was close to Service and cared enough about the history of US-China relations to look beneath the surface of the historical record in a persistent search for the truth.
In 1976, Joiner produced a TV documentary about the diplomatic mission of U.S. Congresswomen to China. In 1979, she covered Deng Xiaoping's historic visit to Washington, D.C. when official relations were finally established. During the 1980s, she reported extensively on the slowly developing business and cultural ties between the two countries. And, in 1997, she reported on Britain's return of Hong Kong to Chinese sovereignty. For more than fifteen years, she has been a media consultant for Shanghai Television (with an estimated audience of over 100-million viewers). In 2009, she trained reporters and producers at the new all-English language "International Channel Shanghai" (ICS-TV). Joiner has also served as a news consultant to Radio Free Asia in Washington D. C. and taught broadcast news writing at Stanford University.
Her professional news assignments include work for: ABC, CBS, CNN, NBC, NPR, and Christian Science Monitor Radio. She was prime-time TV news anchor at the CBS-TV station in San Francisco and produced-hosted a weekly world affairs call-in program, "Foreign Exchange," on National Public Radio for four years. Joiner has contributed stories to the Far Eastern Economic Review, San Francisco Chronicle, San Jose Mercury News, Oakland Tribune and Pacific News Service.
Joiner's news reporting and documentary filmmaking has taken her to many parts of the globe, including: Armenia, Australia, Cambodia, China, Georgia, Hong Kong, India, Indonesia, Japan, Philippines, Russia, Thailand, Singapore, and throughout Western Europe.
Lynne Joiner holds an M.F.A. degree in broadcast journalism from U.C.L.A. and received her B.A. in English Literature from Cornell University. She also attended Stanford University's Graduate School of Education and the Taipei Language Institute. She speaks what she calls "survival" Chinese and French.